Description
Specifications
Reviews
Oticon ProWax miniFit filters
You can use the Oticon ProWax miniFit filters to maintain your hearing aid. By means of the Oticon ProWax miniFit filter you remove cerumen (earwax) from the filter of your loudspeaker. You will receive a total of 6 Oticon ProWax miniFit filters, which you can replace for the old filter on your Oticon hearing aid.
For which hearing aids are the Phonak Cerustop filters suitable?
The Oticon ProWax miniFit filters are suitable for the Oticon OPN and OPN S hearing aids
How do you replace a filter? You grab the hearing aid by the speaker and pull the dome off with your thumb and forefinger. Then take a black stick from the package. There is a black end on one side of the stick. On the other side a white end. Push the black end into the filter of the speaker, it will then remain attached, so that when you extend the black rod, you immediately pull the filter out. Then turn the black rod over so that you push the white end into the speaker. This will then automatically remain in the speaker when you pull the black rod back.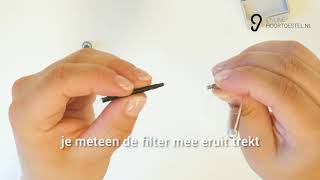 Gehoorapparaat filter vervangen
Brand
All products that we have online have a brand, we only sell hearing aids and other products from the most renowned brands.