Description
Specifications
Reviews
How do you cut a hearing aid tube? If the hearing aid tube has become a bit hard, it is best to warm it up first. You do this by using a lighter or another heat source such as a hair dryer. You keep the heat source close, but at a distance. Then you pull the tube from the earhook and the tube from the earpiece. You then place the hose next to the new piece of hose so that you can cut it to almost the same size. But beware: cut it 1 mm longer than the old tube. Then you push the tube on both sides back onto the earhook and the earpiece.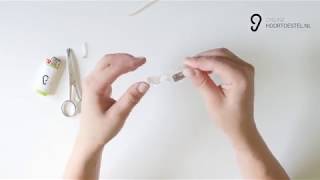 Hoortoestelslang afknippen
Content
25 cm pvc hoortoestelslang
Brand
All products that we have online have a brand, we only sell hearing aids and other products from the most renowned brands.
There are no reviews for this product yet
We are not going to publish your email address.